Beauty AMP Responsive Template Review
Today every business should have an online page: be it a Facebook page or a website owned by business people themselves. The second option is more complicated to achieve. You will have to buy a hosting and domain name, hire people or code yourself to create a website, come up with the content for your business page etc. We can't do anything about prices for hosting and domain, but we can create websites in an easier way with this tool here.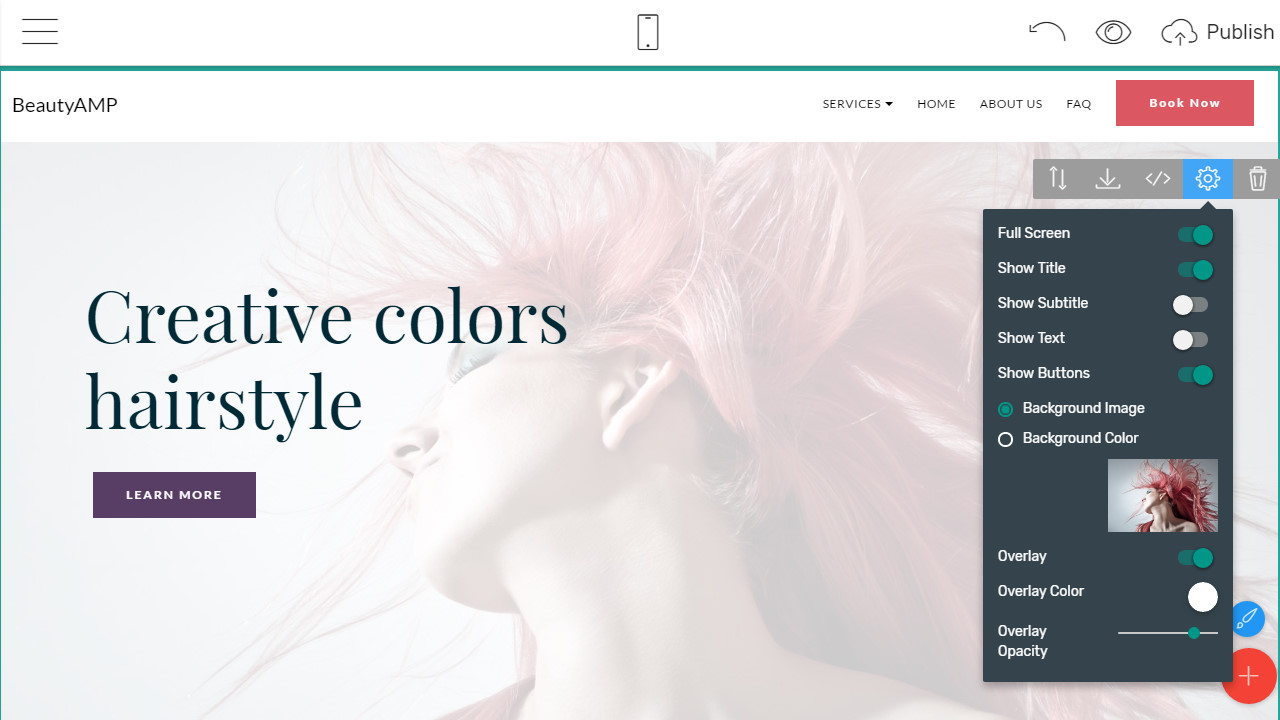 Now people can build professional responsive websites without touching a line of code. To make it possible, you need an AMP Website Builder. There are two types of them: online and offline. Offline website builders are downloadable webdesign programs that doesn't require an internet connection. One of this offline tools is Mobirise.
Mobirise offers many ready-to-use templates: they are pre-designed, but you can easily change their appearance.
Let's say we want a landing page for our beauty salon. There is a lot of templates available and the matching one is BeautyAMP AMP Responsive Template.
Beauty AMP Responsive Template
BeautyAMP is an AMP-based website template. First off, let's dig into what AMP is.
AMP is an acronym for Accelerated Mobile Pages. This is a unique project from the Google team that lets pages load instantly and look a better way on mobile devices. Mobirise is one of the very first AMP Site Builder tools that implemented this Google technology in the templates. What interesting is that AMP Pages are too limited as to how the website looks and works, but Mobirise managed that all templates look astounding even with limitations.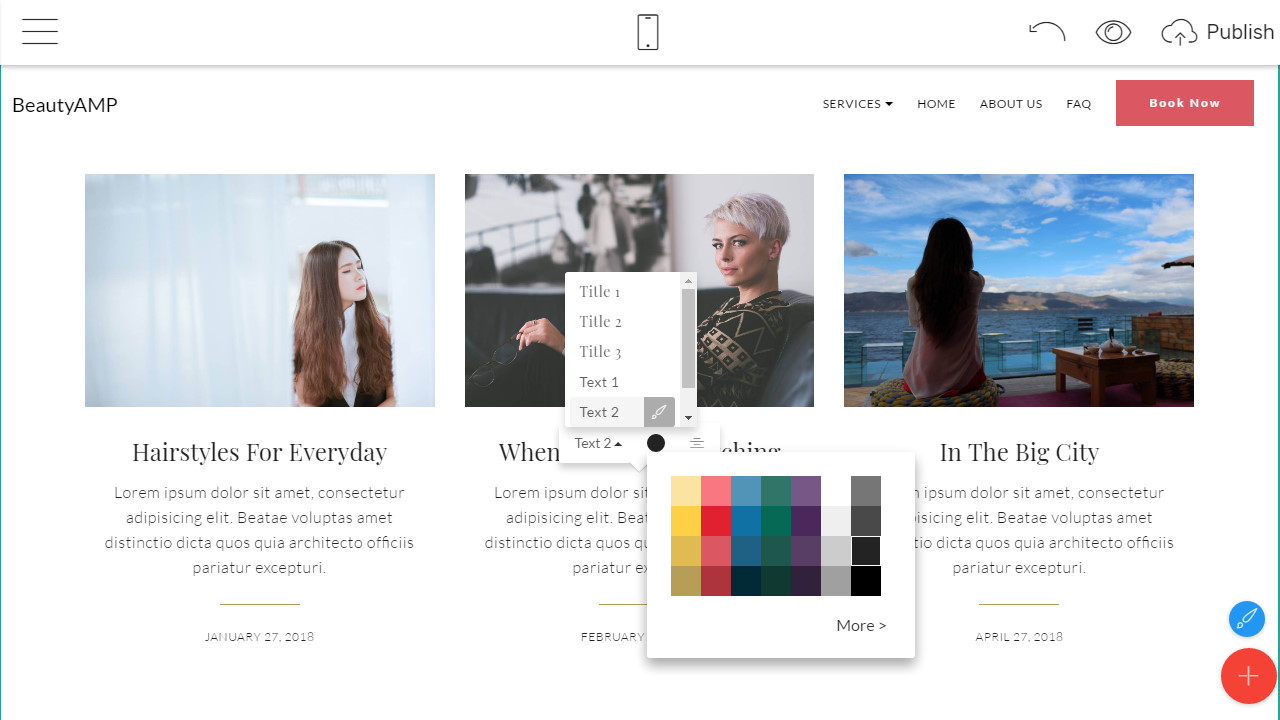 BeautyAMP is a template that incorporates Bootstrap 4 and Google AMP. Bootstrap 4 Framework made it easier for you and other designers to manage the site appearance according to the device screen resolution.
Moreover, BeautyAMP is a topic related AMP Responsive Template so there are a lot of website sections or so-called blocks you can drop on your page to build a perfectly looking page for a beauty, massage or spa salon.
Website Sections
Let's take a closer look at what Mobirise and its BeautyAMP Google AMP HTML template offer to us.
The AMP Responsive Template comes with extraordinarily designed menus that include not only common menus items, but also opening hours and phone number section. There are several full-screen header blocks with color overlays and big background images. You can also use AMP carousels that lets your website visitors conveniently view your pictures.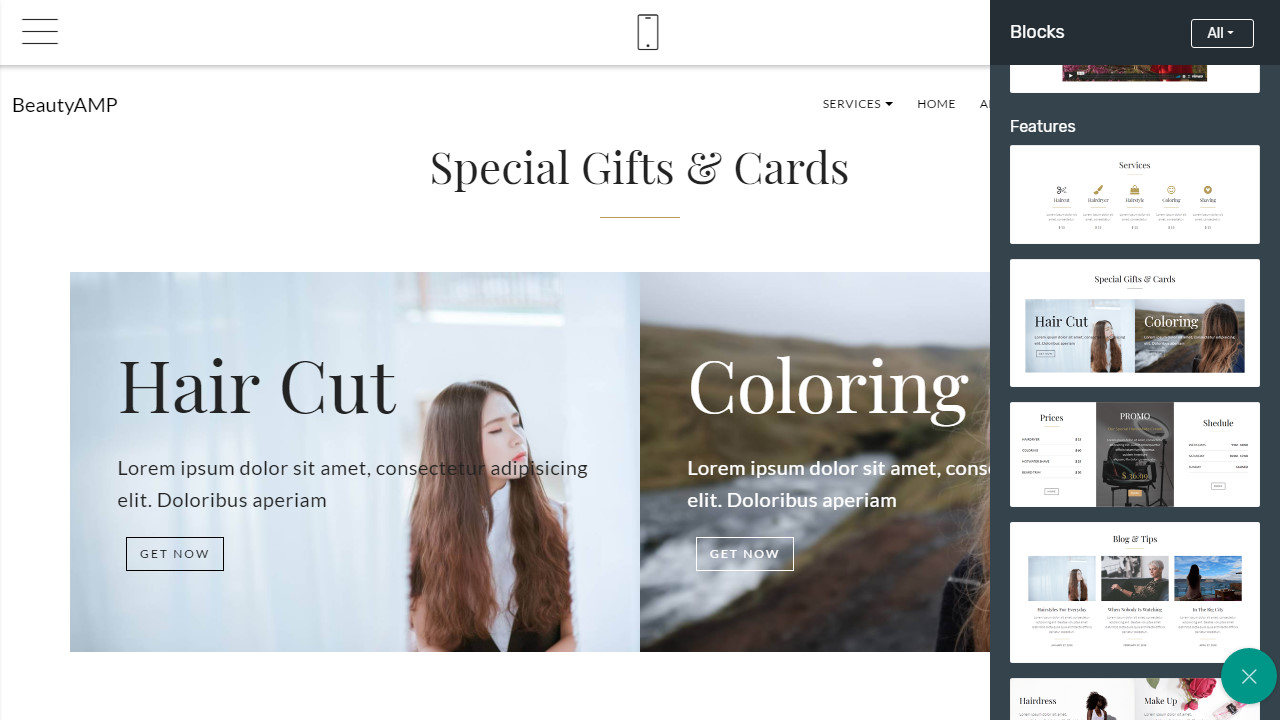 Features allows us to have differently looking Bootstrap cards on your website, for example, such sections as special gifts, promo, prices, schedule, blogs and tips and much more. You can also introduce your team using teams blocks with cards, bios and social icons.
There is a plenty of content blocks like articles, videos and images. Other useful and feature-rich blocks are tables, maps, testimonials, footers, socials, infos and contact forms.
Ease of use
Now you know how this template looks like, but the question is how to change or design it your way.
The first step is download and install Mobirise and its Beauty AMP Responsive Template what is going to take you less than 5 minutes. As soon as you opened your project, you will see the blank page. Drag blocks listed above and position them in the order you want. Even if you placed a block that you don't want or you need to drag block elsewhere on your page, you can easily manage both deleting and dragging the block using options in the top right corner.
There you will also find a gear-like button that contains block parameters that allow for designing the appearance of the block and its elements. Here you are able to change the background color/image/video, enable/disable titles, texts and buttons, control number of the block elements etc.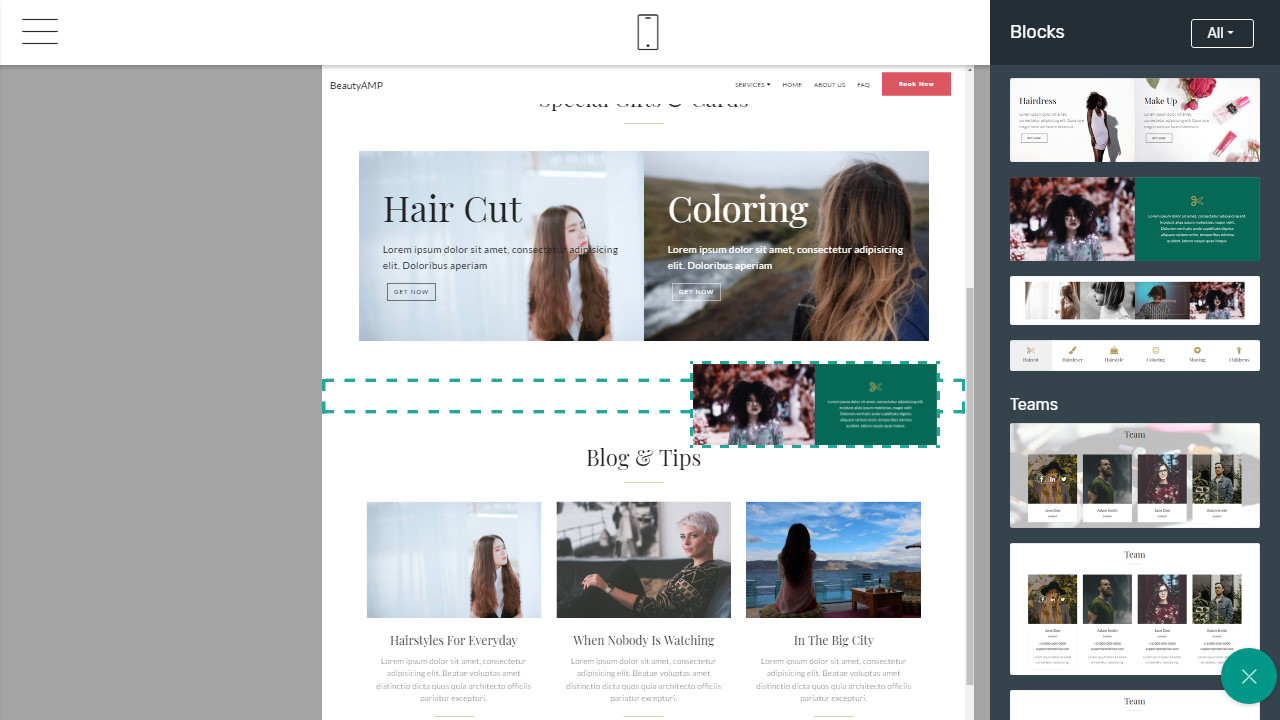 Moveover you can edit the text of your page, add media elements, buttons, icons right on the page.
To change the text types, font types and sizes as well as general site colors, go to the Site Styles panel.
As soon as you try to build a web page with Mobirise yourself, you won't understand how really easy and simple it is.
Mobile-friendly
Thousands of users guarantee that all websites made with Mobirise are 100% mobile-friendly.
There is even a mobile view button in the Mobirise application in order for you too see how you website displays on smartphones. The best thing is you don't really have to take care of the responsiveness of your website, create a mobile version or code your website to make it mobile-ready. Bootstrap framework has already done this work for you.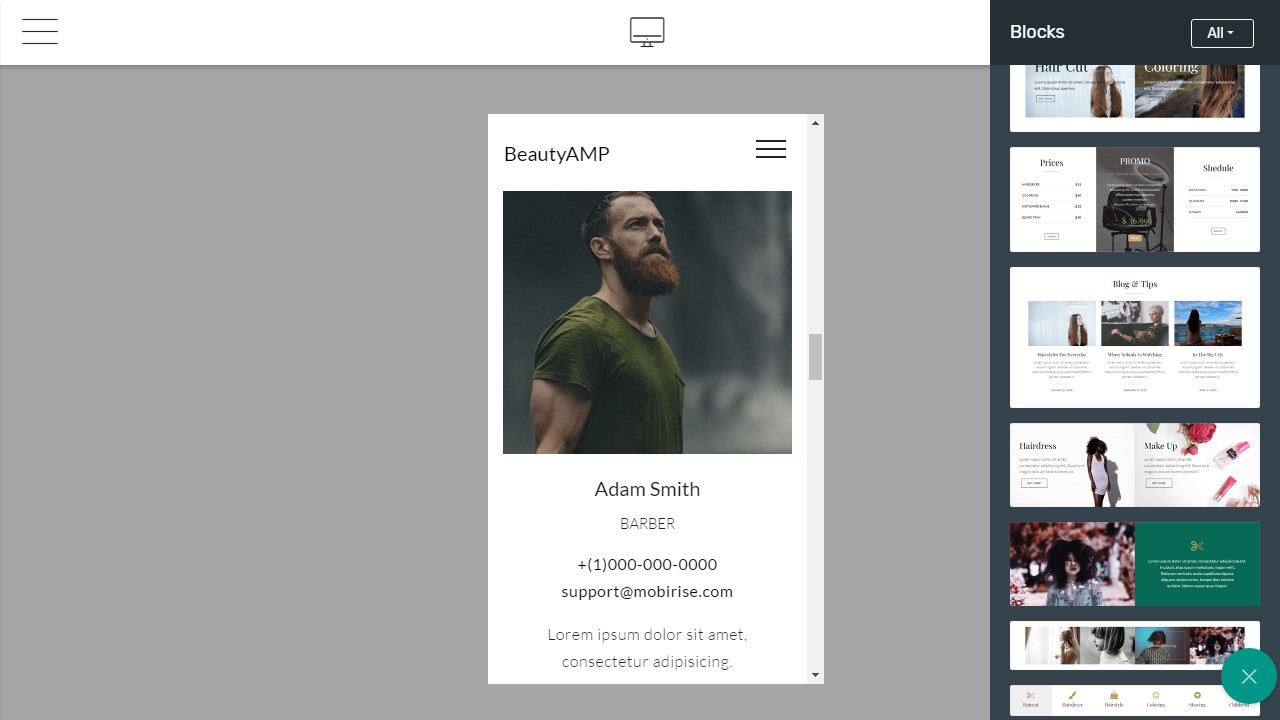 Mobile-friendliness goes a long way towards increasing the site audience volume. So, having a responsive website is not only useful - it's a must.
Conclusion
To wrap things up, we'll go through pluses and minuses of using Mobirise and the Beauty AMP HTML template.
The AMP Responsive Template let you build pages that load instantly
The websites are fully responsive Google-friendly
You can create unlimited websites and pages
You are free to choose any hosting provider you want
There are lots of awesome looking blocks and features
Mobirise is a free software
The disadvantages are no hosting and domain services included.
If you compare the reviews you will see that Mobirise is one of the top rated website builders on the web.