One-Page Website Templates You Will Love
Times are changing at a breakneck pace and we have to find new ways keep up with our competitors in order to stand out and be up-to-date. Speaking of web design, we should keep ourselves posted about the new trends and features and try to implement them while creating websites.
If we want always to have a lead over our competitors, we need prompt solutions. There are a lot of programs and tools that allow for building websites with no coding experience required. One of these is Mobirise.
What is Mobirise?
Mobirise is a free and fast website builder software that features Drag-n-Drop and lets you build responsive websites in a short time frame. The functional principle of Mobirise is easy to comprehend: you choose one of the one-page site templates, stack blocks on top of each other, design them and fill with your own content.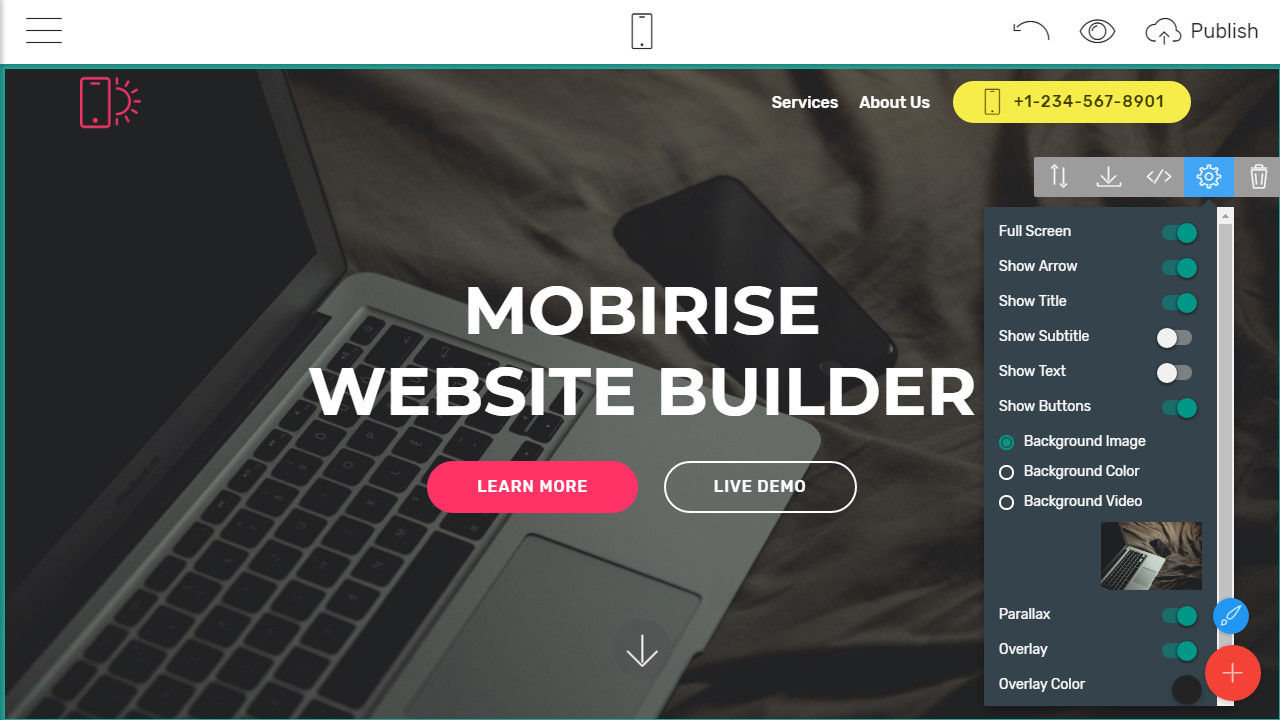 As already said, Mobirise offers a lot of responsive one-page website themes with pretty much many features that are easy and simple to manage. Here are some of the latest Mobirise themes you can use for your project to engage your website audience and be always on trend.
HotelM4
HotelM4 is one of the most appealing one-page website templates Mobirise provides you with.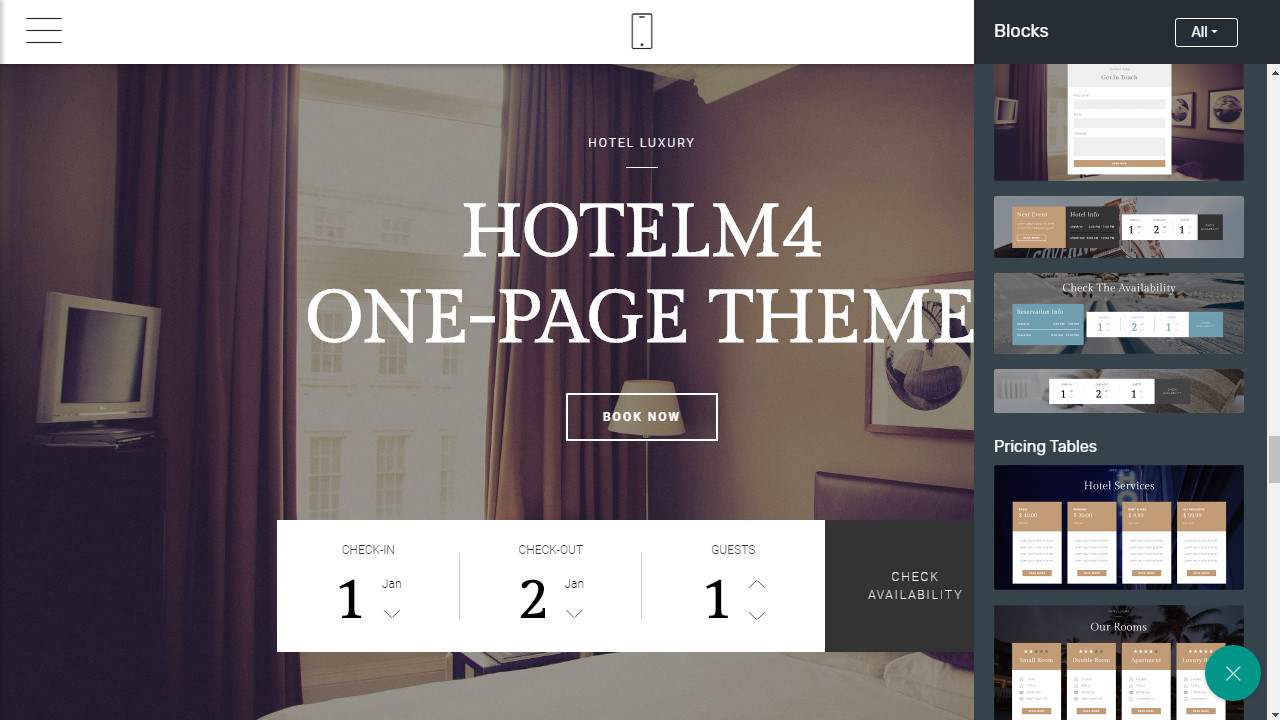 It fascinates with its incredible array of blocks: you will find here anything from menus, intros, contact forms, galleries and sliders up to booking forms, cards, news, events, rooms and so on. If you have your content, it will take you a few minutes to set up a working website and make your website ready to go online.
As the title says, this is a HTML Bootstrap One-Page Template which perfectly suits hotel and resort owners - a website as a way to show services and attract more tourists and visitors, but we are safe to say that this theme can also be used for any other purposes and kinds of websites.
CommerceM4
Selling products online requires best possible front-end solutions. So why not use the CommerceM4 template for building an online shop?
CommerceM4, one of the most feature-rich HTML5 Bootstrap Templates, offers over 80 pre-made full-fledged website blocks you can easily mix and design on your page.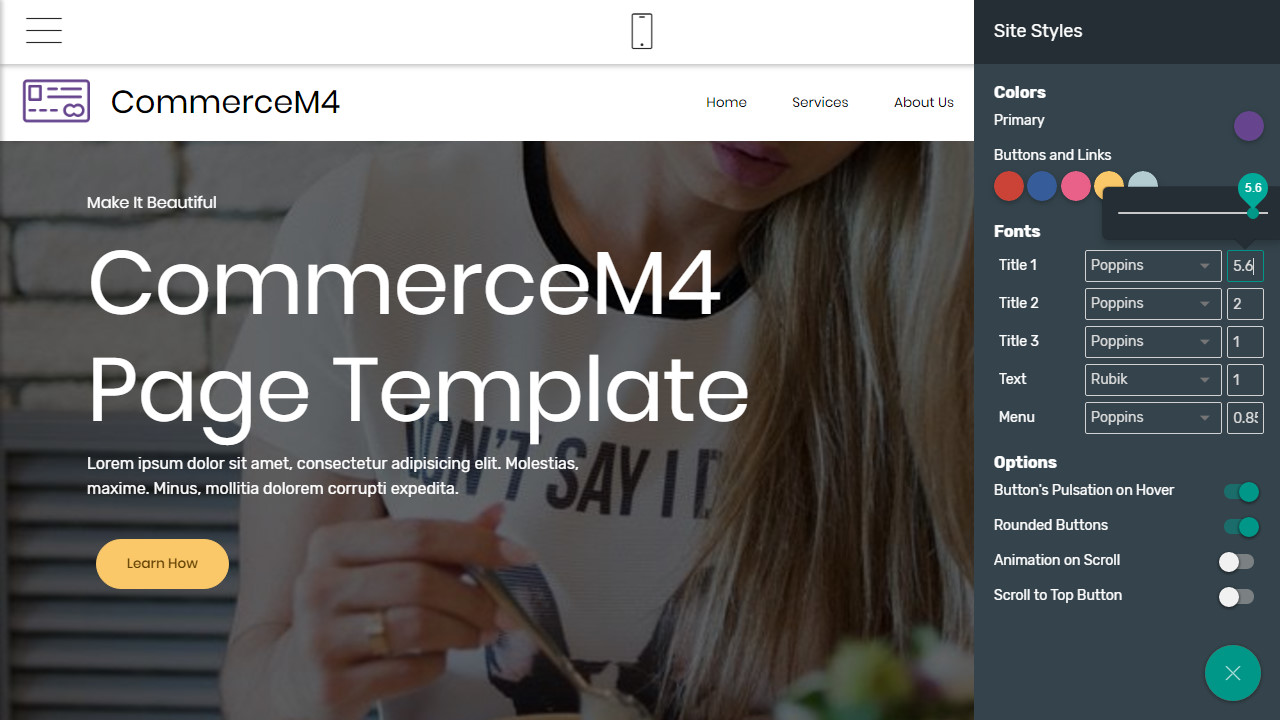 This theme covers more than standard and other additional one-page website themes: there are awesome button animations, shop blocks with sorting features, intro blocks with contact forms, maps with gray filters in conjunction with forms, footers with social icons, a form and an opening hours section etc.
With CommerceM4 it's that easy to set a video background or an image background with parallax scrolling effect, add some of the lots of icons, create a color overlay and much more.
RestaurantM4
RestaurantM4 is Bootstrap template that can excite you with deliciously looking background images. This is the only Mobirise theme that features a full-screen menu with an image on it.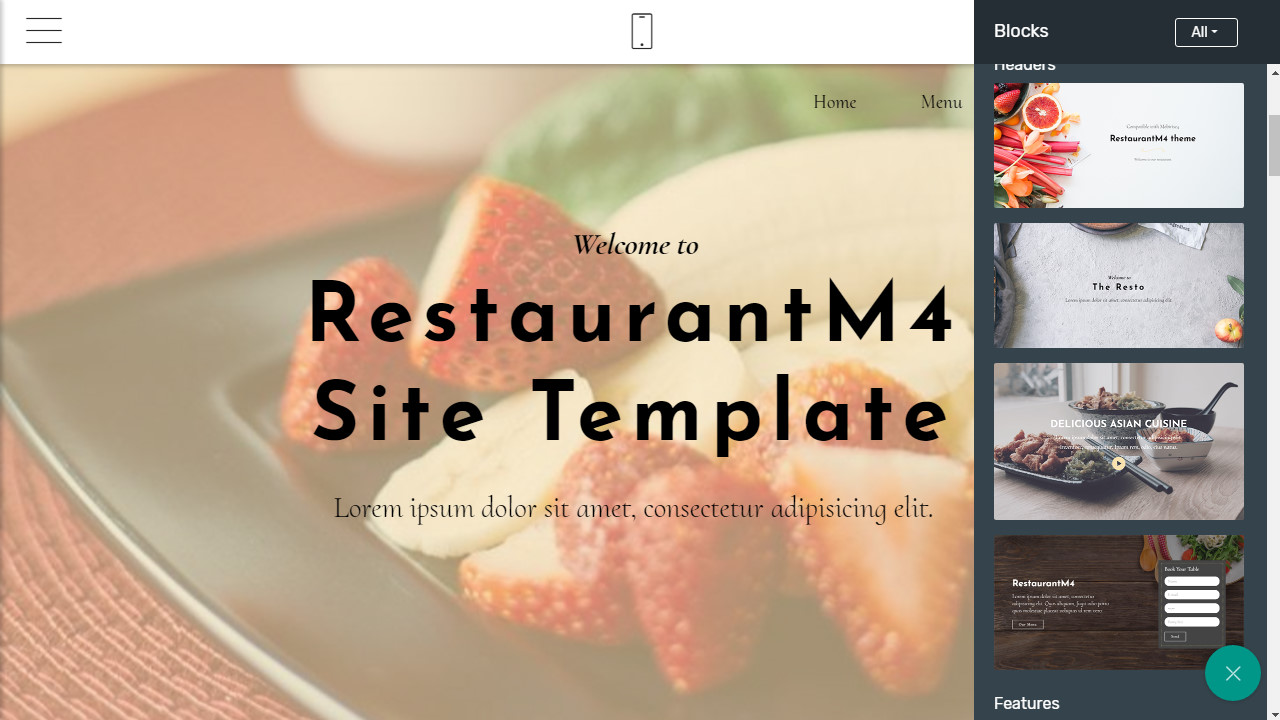 What restaurant owners would love about this theme are such site blocks as restaurant menus with background images and lists of dishes with pricing next to them, recipes, opening hours, testimonials and many other blocks related to this business area.
Creating a restaurant website or any other type of websites is as easy as possible due to the drag and drop system, block parameters, inline editor and user-friendly interface.
StoreM4
StoreM4 is another from one-page website templates dedicated to online store creators and owners. If you want to build an e-store in order to sell things, it's no big deal with StoreM4.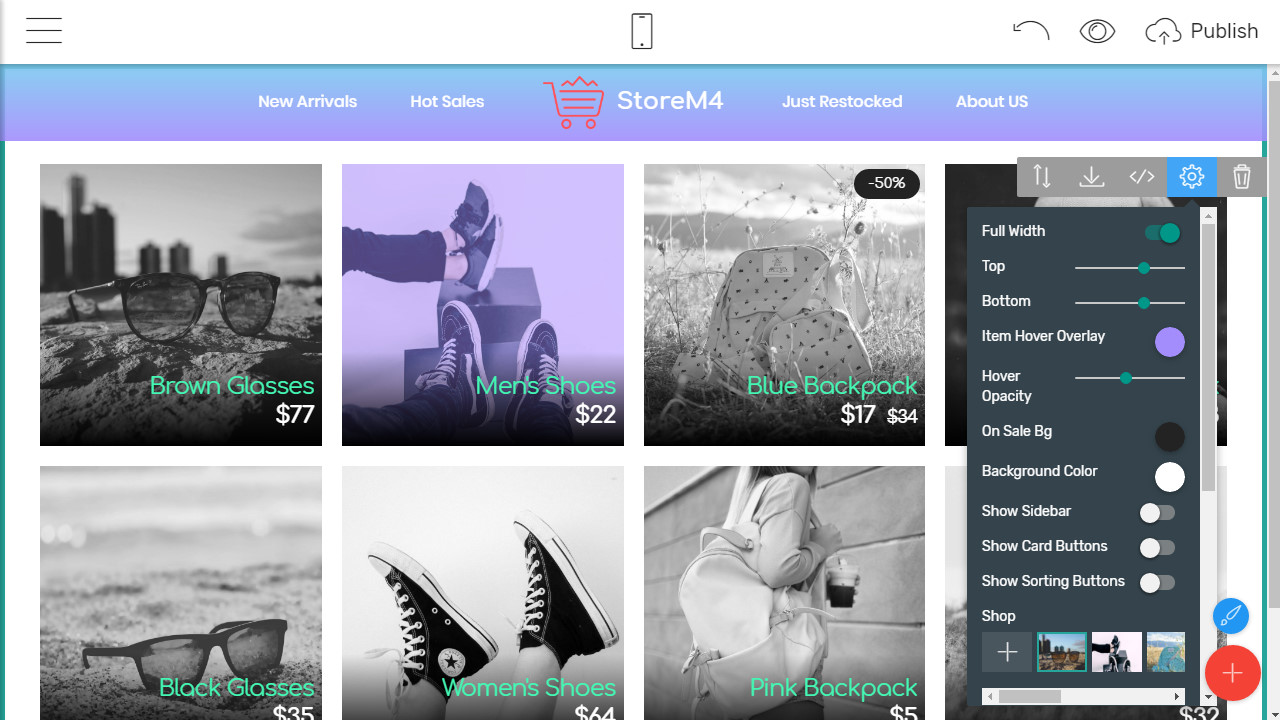 This theme is similar to the CommerceM4 theme, but also has its own features: there are blocks with radial gradient overlays, sticky top lines, gradient menus and icons and much more.
This theme can ideally be used with PayPal Cart extension as a supported payment system by Mobirise. You can also implement another payment system for your website using an inbuilt code editor or link options.
Conclusion
I hope these one-page website templates above can help you build your own website with no effort and minimum expenses. Whatever you are going to opt for, I would use one of these templates to create a really good looking website as easily and intuitively as possible.